Our Story
Donna, the founder of All Hung Up Hangers, has walked through many luxury closets in her time as a Certified Luxury Home Marketing Specialist and real estate agent. Working in the luxury and resort market of Southern Florida, she quickly realized there was a need for high quality, personalized, and durable hangers that belonged in these closets. After several years of research, she started All Hung Up Hangers in 2017. Ever since, these products have been benefiting clients who simply want the best in quality and design in all aspects of their lives.
Our Mission
We strive to provide the highest quality luxury hangers on the market, coupled with outstanding customer service and VIP level customer experience. Sustainability is a top priority, with hangers built to last a lifetime and keep waste out of landfills, without sacrificing the beauty of your closet.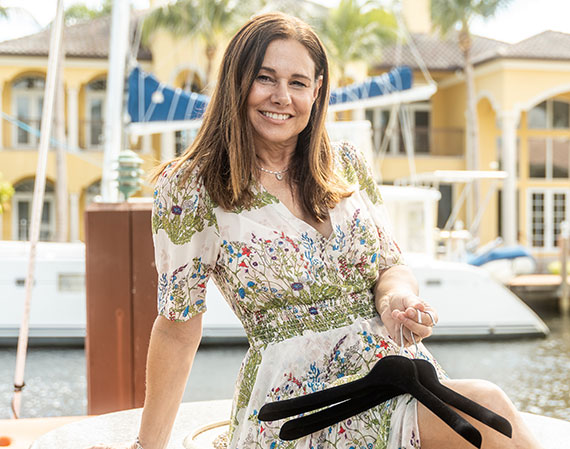 ENDORSED BY DOLORES CATANIA
a Real Housewife of New Jersey
I purchased hangers from All Hung Up. The quality is impeccable. They are not only sturdy and solid but designed very well.
Susan S.
Verified Purchase
Amazing Hangers!!! On my search for high end hangers I ran across All Hung Up Hangers & I'm glad I did. Beautiful hangers!
David Eyal Alter
Verified Purchase
Received my hangers!! Very satisfied. Thank you for working with me. I will order again!
Mary Wolf
Verified Purchase
I absolutely LOVE my new pink hangers! They are beautiful, thick, sturdy and have completely transformed the look of my closet.
Annette
Verified Purchase
Amazing product! My closet is finally super organized and neat! Thank you All Hung Up Hangers!
Ingrid Zimmer
Verified Purchase
High quality and affordable hangers - will use Allhungup hangers again and gift my loved ones too.
Hamid Mahmood
Verified Purchase
These hangers took my closet from average to extraordinary! Not only are they beautiful but my clothes actually don't slip off of these hangers. In addition, the thin wood allows me more room in my closet. I love all the color choices too!
Pam Fibus Lehman
Verified Purchase
These hangers are beautiful! The texture is very luxurious and smooth but they grip the clothing. Highly recommend as a new year treat for yourself or as a gift.
Jeannie H
Verified Purchase
Hangers arrived quickly well-packed in a cute box. I found the company when searching for high-quality coat hangers for the guest closet of our new home. These Wood Luxe hangers in Mahogany Matte are high quality, beautiful and just what I wanted.
Dawns Harvest
Verified Purchase
Fast delivery and extremely caring customer service! The hangers are the best quality you can find. They are on top of your order and respond all hours including weekends. Best Customer Service you could ever expect!
Perry Vincent
Verified Purchase
These hangers are well made and beautiful! I got my husband the monogrammed luxe wood for his suit jackets. They hold up beautifully and look really polished in our closet!
Sarah Kate
Verified Purchase
My custom hangers came out beautiful and really enhanced my closet! Very professional work and the service was timely and efficient. Couldn't have asked for more! I would definitely recommend to everyone 👍
Tabatha Cross
Verified Purchase
Great quality hangers and responsive shipping department.
Clifford Thomas
Verified Purchase